Sightseeing Tours
Explore the option of a fully automated system for delivering sightseeing tours on-board buses, boats and trains. Soundscape for sightseeing tours requires no driver intervention and consistently delivers sightseeing tours day-after-day without having to rely on a tour guide.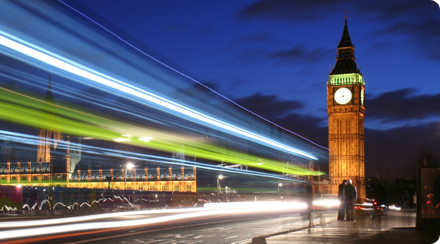 Deliver seamless sightseeing tours day-after-day
Multiple languages
Requires no driver intervention
No need to rely on a tour guide
Soundscape system delivers recorded commentaries with great accuracy and reliability in modern, busy city-centre settings for open-top bus tours as well as providing tidal river commentaries and rugged safari-park tours.
In the open-top bus sector, passenger and driver safety have been the main reasons for take up of Soundscape: a system that automatically triggers a commentary when the appropriate point of interest approaches clearly represents an improvement in safety compared with the driver either pressing a button or foot-switch. Out on the road, though, operators still want to be able to override any automatic system at a moment's notice and revert to manual operation if the need arises.
Some customers want to be able to create and programme new tours easily and cost-effectively themselves. The Soundscape authoring system has been developed to permit customers to create and programme new commentaries or modify existing commentaries, create new routes etc,. under license. The system lets the user specify precisely where they want a commentary to play and under what conditions, for example: direction, speed, time of day, specific day or date as well as more sophisticated functionalities such as linked commentaries and suspensions.
It's not unusual for an operator to be running a variety of different tour routes throughout the season. Soundscape commentaries are filed by their geographical location, rather than being assigned to a specific route. As each new point of interest is added to the system, a library of commentaries builds up. These commentaries will play on any number of routes providing that they are appropriate to the vehicle's current location, direction of travel etc, The operator can quickly update or add to its library of commentaries to accommodate temporary diversions, modifications or extensions to a current route.
The library of commentaries can be stored on the Soundscape unit or on a removable data storage key or card. After a short while, operators begin to think in terms of a library of points of interest within a geographical area rather than commentaries within a fixed, predetermined and sequential route. For the passenger though, the experience is the same.
Soundscape is a complete package for tour operators, whatever the application:
High quality audio commentaries, developed by Turning Points own team of researchers, scriptwriters and producers.
'Delivery units' for the commentary, which are robust and environmentally sealed for use in wet and dusty environments.
Commentary authoring system enabling licensed customers to create and manage their own commentaries quickly and accurately.
Hear Soundscape for yourself:

Click here for samples of some of the many countries that Soundscape currently visits

Our customers say:

"The Soundscape system takes up relatively little space on the bus and is easy to use, with the driver being able to select the route and languages required at the beginning of each journey. So for example, if on the first tour, the bus had Japanese and Russian passengers on board, but the second tour has a group of French people, you can de-select a language that isn't required, for example, Polish and replace it with a commentary in French. This can all be done without the driver having to leave his seat or disconnect anything from the system.
"We also have the flexibility to author promo tracks, which only activate if the bus is in slow moving traffic, travelling under a certain speed.In addition, Soundscape allows us to author tracks which will only activate when the bus is on a diversion. All our authoring can be done 'in-house', which gives us the ability to take a bus out on the road and author a commentary to trigger just where we want it to.
"In a city environment, with small medieval streets and plenty of traffic lights, this is very important. Often a track will need to activate next to a certain post box or road sign, so that by the time the passengers turn to look, the Royal Palace that is being talked about will be in their eye-line. The system is unaffected if the bus travels over cobble-stones and it's possible to have separate commentaries for different tours, which travel in the same direction, down a common route."
Crispin Avon, Sales Representative for City Sightseeing Denmark
---

"Although we could change the commentary on the old system, it wasn't easy to do. When I heard about Soundscape I thought it was too good to be true but it's been working very well and we're really excited about the next stage in its development"
Nigel Davies, Manager African Experiences, Port Lympne Safari Park










Some of the companies we work with:
GDPR Privacy Policy: Click here to read our privacy policy