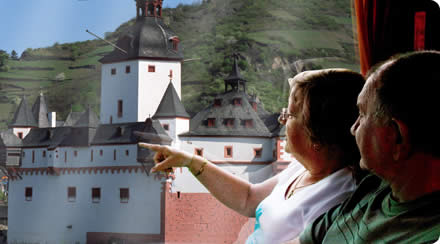 Soundscape commentaries.....
help to ensure that your tours are kept to the same high standard, no matter who is the driver.
allow the driver to keep focused on the priority of safety and not be tempted to change music or use the microphone while driving.
keep your customers entertained on motorways and selected A roads* with entertaining, factual Point of Interest commentaries.
do not repeat themselves on the homeward journey, even though the same roads may be being used.
can always be overridden when necessary.
are being continually updated as new commentaries on new routes are released for the United Kingdom and Europe.
Soundscape is so easy to operate - just an on/off switch giving your driver complete control over when to bring this unique passenger entertainment into play.
Hear Soundscape for yourself:

Click here for samples of some of the many countries that Soundscape currently visits


UK and European route coverage:
Click here to see which UK and European roads currently feature Soundscape commentaries


Our customers say:

"I can certainly see the benefits of the Soundscape system. The commentary was clear and very professional and we have had very positive feedback."
Gordon McCallum, Motts Travel










Some of the companies we work with:
GDPR Privacy Policy: Click here to read our privacy policy